Xornot Genesis is a strange variation of the Andor Genesis. It first appeared as the final boss of Xevious: Fardraut Saga.
The Xornot Genesis was probably a Frankenstein-like combination of all of the previous Andor Genesis that appeared earlier in the game.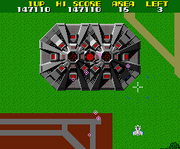 Attack Pattern
Edit
Xornot Genesis fires twice the bullets of the original Andor Genesis.